Got pelts? Ready to make those sheepskins or lambskins into something awesome! Try your hand at sheepskin throw pillows, aka cushions, with this epic tutorial.
How to Make a Sheepskin Pillow

I am so excited to share with you my proven process for making sheepskin pillows!
You will want to start your super-awesome sheepskin pillow project by gathering all of your materials. You will need a flat, clean work surface in order to get your sheepskin and fabric measurements correct.
What You'll Need
Sheepskin or Lambskin

Light-Weight Cotton Fabric (optional, to cover skin inside pillow)


Square Ruler

Pen and Pencil


Tracing Paper
Next, you will need to decide what size pillow you will make. Actually, the sheepskin you are using will mostly dictate the dimensions of your pillow. I use a young Icelandic lambskin in this tutorial (which I tanned at home in my bathtub)! This skin allowed for a 14 x 14 inch pillow.
A Note About Patching
All sheepskins are different, but they all have "holes" or curves around the edges of the skin where the legs of the sheep were. When making pillows, I patch leg holes, and holes caused by the skinning or tanning processes, in order to utilize as much of the sheepskin as possible. The technique of patching, will give you a bigger pillow.
You can choose to make your pillow from only the skin inside of the leg holes, which will save you some time and materials, but also will give you a smaller finished pillow.
Step 1: Cut a Square From Your Sheepskin

You'll need your sheepskin, square ruler, pen, and pointed scissors. Decide if you are going to be patching leg holes OR staying on the inside of the leg holes (less patching).
Skin-side up, use your square and pen to draw out a square on your sheepskin. Your square tool can be a framing ruler, a t-square, a square quilting ruler, or even a square piece of plexiglass or cardboard.
Use your sharp, pointed tip scissors to cut your square out of your sheepskin. Be very careful not to cut the fleece fibers. Use a gliding motion when cutting, rather that a snipping motion.
Expert Tip: When deciding what size sheepskin pillow square to make, choose from standard pillow-form sizes!
Step 2: Create Your Patches

You should now have a square piece of sheepskin with maybe a few pieces to patch! To patch, start by grabbing your pencil and trace paper.
In order to patch holes in your sheepskin, you will first need to create a paper template. To do this, place the trace paper over the hole you need to patch. Then, use your pencil to draw a perfect paper patch.
Use your extra sheepskin (the sheepskin leftover from your pillow square) to cut out a sheepskin patch by using your pen to trace around the paper template onto the skin.
Use your sharp, pointed tip scissors to cut the patches out of your sheepskin. Again, be very careful not to cut the fleece fibers.
Expert Tip: Make sure that the direction in which the fibers lay in your patch, matches the fiber direction of pillow square. This will ensure a beautiful and invisible patch on the fleece side of the pillow!
Step 3: Complete Your Sheepskin Square

To patch your sheepskin square, you'll need your Glover's Needle, Linen Thread, and Hand Sewing Wax. Be sure to lightly wax your thread so that it glides smoothly through the sheepskin.
Thread your needle with an "arm's length" of thread. Bring both ends of the thread together and tie a double knot. Yes, you will be sewing with the thread doubled!
Fit you patch into the hole in your square. pinch the two pieces of sheepskin together so that the edges of each and pointed upward. Use a "continuous over and over suture" to sew the two pieces of sheepskin together.
Start, and stop, sewing about 1/4 inch from the edge of your pillow (if you are on an edge). Also, space your needle holes about 1/4 inch apart. The more holes you make in sheepskin, the weaker it is, and the more likely it is to tear.
Once you complete your sewing, you will have ridges in your sheepskin square that will need to be smoothed out. Use the handle of your scissors to gently rub the ridges down flat.
Expert Tip: You will also want to lightly wax your thread. Waxed thread makes sewing easier. It helps prevent tangles and lets the thread slide through the sheepskin without snagging.

Step 4: Putting It All Together
Now that you have a complete sheepskin square, use your square ruler tool to check its size and squareness. Make any needed adjustments. Remember, use a gliding, rather than a snipping motion so that you do not to cut the fleece fibers.

You can now cute your fabric squares to the same dimension of your sheepskin square. I love suing duck cloth fabric for the backside of my sheepskin and lambskin pillows! You may also want to use an inexpensive, thin cotton fabric to back your sheepskin. This will make the skin-side of your sheepskin (on the inside of your pillow, when finished) not visible.
You should now have your sheepskin square, and two pieces of fabric, that all measure the same. Layer these pieces as follows:
Inexpensive cotton fabric (optional)
Sheepskin with fleece-side up
Fabric (duck cloth) with pattern side down
Expert Tip: Use your binder clips to secure everything together. Leave one side of your pillow square un-clipped. You'll start sewing there, first!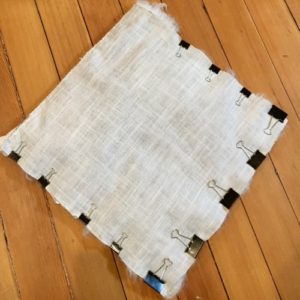 Step 5: Let's Get Sewing!
Sew your zipper first. Measure your invisible zipper to fit the length of your pillow and cut accordingly. Use use an invisible zipper and a sewing machine to sew one side of the zipper to the fabric-only side. You can also hand-sew the zipper to the fabric with a running stitch.


Lay the zipper upside-down, flat on top of your fabric (that is also upside-down), then fold back the fabric so that both the front-side of the zipper and the front-side of the fabric and pinched together. You can check to see if it came together correctly by viewing it from the outside of the pillow.
If you don't have a sewing machine or wish to sew by hand, use a running stitch to secure the zipper, as pictured. You can also use binder clips to hold your zipper in place and remove them as you move down the line.
To attach the other half of the zipper to the sheepskin side of your pillow, use the "continuous over and over suture" to attach the zipper, sheepskin, and inexpensive fabric backing together.
Now that the zipper is secured, you can proceed to sew up the other three edges with the "continuous over and over suture".
Expert Tip: Make sure you unzip the zipper a bit! You'll want to be able to turn your pillow right-side-out once you've finished sewing up all four sides.
Step 6: Make It Right
Finished sewing? Now, turn your pillow right-side out and stuff with
your pillow form! Congratulations! You have an absolutely gorgeous, handmade sheepskin pillow!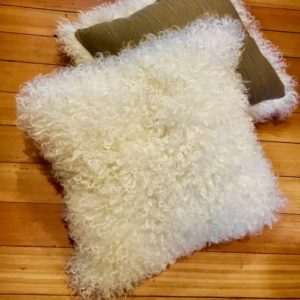 ---
Want a video on how to sew the "continuous over and over suture"? It's a good one! Get the video and I'll show you exactly how I sew my sheepskin pillows, and the type of needle and thread you'll need (and why).


---
Happy sewing!
If you are having trouble, head over to the DIY Sheep Crafts group on Facebook. The community and I will be happy to help you! And remember to always…
Shepherd Like a Girl!
Save
Save
Save
Save
Save
Save
Save
Save
Save
Save
Save
Save