Fall is the BEST time for wet felting! And I absolutely LOVE wet felting big fleece rugs. These rugs look like a sheepskin rug, but only use fleece. These rugs are also called "vegetarian sheepskins."
Felted fleece rugs use sheep wool, from shearing (not the sheepskin), that is felted using a technique involving hot water, soap, and rolling. The finished rug is felted tightly on the backside so that it holds its shape and doesn't fall apart. Felted rugs are also called vegetarian sheepskins or no-skin sheep fleece rugs.
7 Tips for the Perfect Felted Fleece Rug
Every wet felted fleece rug is as unique as the sheep's fleece that made it! And your rug is only as good as the fleece that made it. It can be challenging sometimes to achieve the results you were hoping for. And that's why I've put together my top 7 tips for making your perfect wet felted fleece rug!
Have a look! If you are still struggling, check out the Felted Fleece Rug video COURSE.
If you want a rug that has luxurious locks, choose a fleece with locks over 5 inches long. Definitely remove any locks under 3 inches. You can use a fleece (or multiple fleeces) with longer, more uniform length locks.

Any hay, seeds, or other debris in the fleece before you start wet felting will be felted into the rug and won't come out easily (or ever) after the rug is felted. Remove all VM from the fleece before wetting.

If you are getting a ton of shedding, your rug isn't felted enough yet. You can try to slow down the felting process by using cooler water. Will take longer, but you may get a better felt. You can also rub the top side of the rug with your fingertips, like washing your hair.


If your locks are felting into the rug, take more time when rolling to stop and gently pick open the locks.

Some fleeces felt faster (or slower) than others, even among the same breed of sheep. So, the exact technique that worked on one fleece may not work on another. Be flexible and patient.

To get the most secure and uniform looking rug, try a combination of needle felting and wet felting.

Are your layers not felting together no matter what you do? Make sure that the backing (batting and/or roving) you are using felts. Some batting, like wool quilt batting, is treated so that it will not felt. This will not work for this project.
I hope you found these tips helpful. But, if you want to see EXACTLY how I make a felted fleece rug, you'll definitely want to check out the Video Course. Here's what you'll get when you enroll:
• Step-by-Step Written Tutorial
• Supply List
• 7 Video Tutorials
• Lifetime Access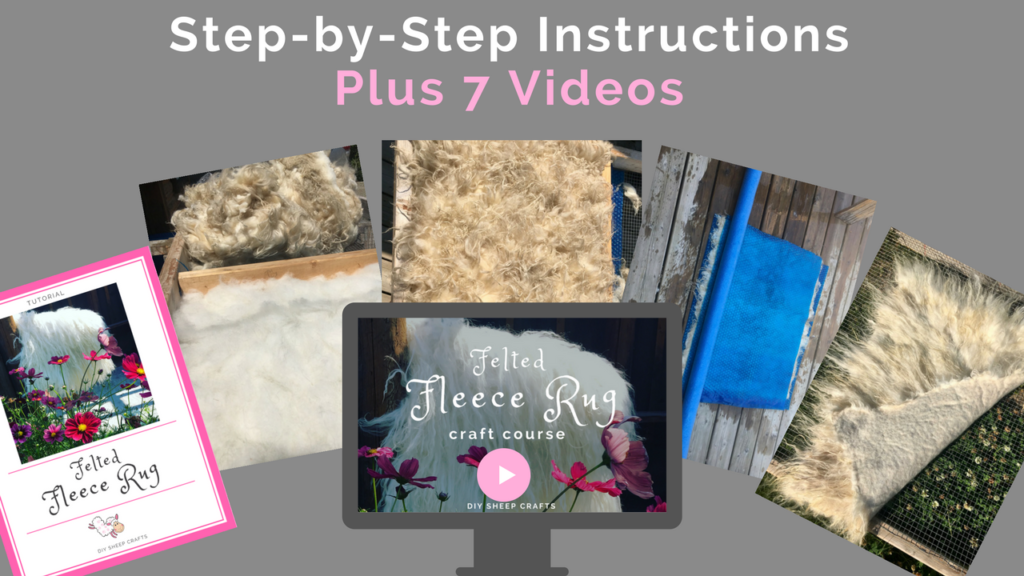 Follow us on Instagram @copiacove!
Save